Born 2 June 1982, Le Mans, France – Lives at Saint-Brieuc, France
Represented by Galerie Sit Down, Paris, France
aurorebagarry (a) gmail.com

GROUP EXHIBITIONS
2023
Roches, Musée de Bretagne – les Champs Libres, Rennes, du 26 novembre au 5 mars 2023, sur une invitation de Nolwenn Brod, en prolongement de son exposition Les Hautes Solitudes. Jeudi 24 novembre : vernissage à 18h. Vendredi 25 novembre : visites en avant-première de l'exposition de 14h30 à 18h30 et signature du livre Roches, éditions GwinZegal, à 15h30.
2022
* Regards du Grand Paris du 24 juin au 23 octobre 2022 : Magasins Généraux, 1 rue de l'Ancien Canal , 93500 Pantin et Musée Carnavalet, 23 rue de Sévigné, 75003 Paris
* Frac Bretagne en résidence, du 25 juin au 2 octobre 2022, Espace François-Mitterand, 1 Place du Champ au Roy, 22200 Guingamp
* Biennale de l'Architecture et du Paysage, Versailles, du 13 mai au 13 juillet, pavillon Végétal et Architecture réalisé par ChartierDalix pour la @metropole_du_grand_paris
* Festival Artocène, Temps Suspendu, Capsule Miroir, Chamonix, du 18 juin au 17 juillet
* FOIRE : 07-04-22 > 10-04-22 – ART PARIS – Grand Palais Éphémère, Galerie Sit Down Stand G8 avec Aurore BAGARRY, Costanza GASTALDI, Catherine NOURY, Frédérique PETIT, Florian RUIZ, Martine SCHILDGE
2021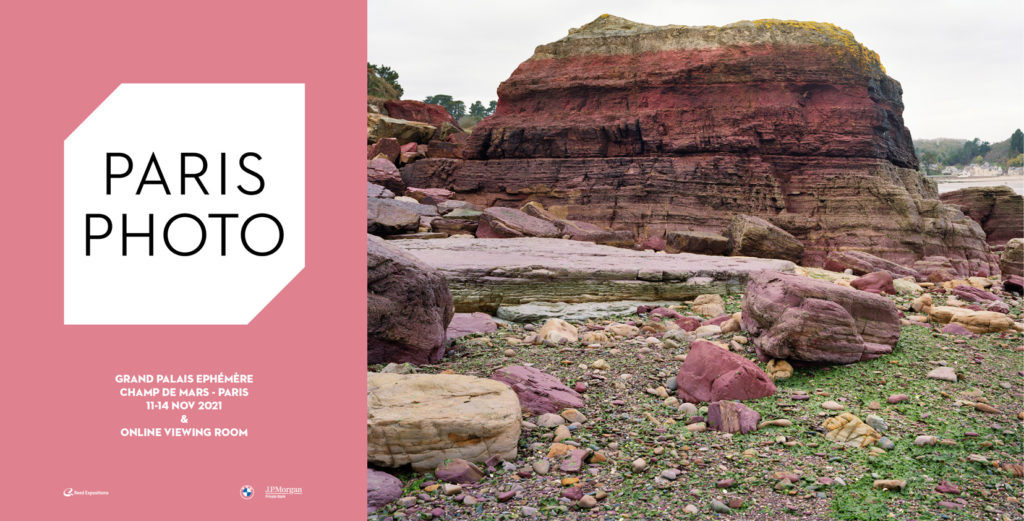 FOIRE : Paris Photo, Galerie Sit Down, STAND B5, du 11-11-21 au 14-11-21, Grand Palais éphémère, Série Roches.
CONVERSATION : Paris Photo, Plateforme, jeudi 11 novembre18h30-19h30, Table ronde sur la commande photographique nationale « REGARDS DU GRAND PARIS » avec Pascal Beausse, responsable de la collection photographie du Cnap, Aurore Bagarry, photographe, France , Karim Kal, photographe, France. La vidéo en FR and in EN
PECHA KUCHA : Ecole des Beaux-Arts de Saint Brieuc, samedi 18 septembre, galerie Raymond Hains
2020
Depuis la terre ferme, du 19 juin au 12 septembre, avec Léna Araguas, Aurore Bagarry, Laëtitia Donval, Nicolas Floc'h, Olivier Jobard, Marc Loyon, Mathieu Pernot et Séverine Vermersch, Maison de la fontaine, Brest. Commissariat : Julie Hascoët
Mia Fair, Galerie Sit Down, Milano, Italy (cancelled)
Chroniques Nomades, Auxerre
Jeune Création #69, Fondation Fiminco, curated by Pierre-Marie Dupont-Martin, Romainville
2019
2018
Paris Photo, parcours Elles, curated by Fanny Escoulen, Galerie Sit Down, Paris
2017
2016
Cnap! Ministère de la Culture et de la Communication, Paris
FLASH ! galerie Sit Down, Paris, France
2015
2014
2013
2012
Journal Japonais, dans le cadre de l'Image Publique 2012: Paysages et territoires, curated by Estelle Chaigne, Rennes et Métropole
Lunette de Nuit, ECCE, Paris, curator.
2011
Die Nacht / La Nuit #113, Arte, France – Brésil.
2008
2007
Roulez Jeunesse ! Réseau de l'Age d'Or, Avignon
SOLO EXHIBITIONS
2023
Tumultes d'eaux, formes de pierres, du vendredi 13 janvier au 17 février 2023, Galerie Art et Essai, Université Rennes 2. Commissariat : Philippe Boulvais et Bruno Elisabeth. Vernissage : Jeudi 12 janvier 2023, à partir de 18h
2022
Eau, Roches, Glaciers, Maison des Arts du Léman du vendredi 18 mars au samedi 4 juin 2022, Thonon, Galerie de l'Étrave. Rencontre le 6 mai à 18h30.
2021
Roches, du 6 mars au 6 juin 2021, Galerie Sit Down, Paris. Vernissage vendredi 5 mars et signature du livre les samedi 6 mars et 5 juin 2021.
2019
Glaciers, Artothèque, curated by Marie Pontoire, Annecy, France
2017
Glaciers, curated by Xavier Lapeyroux, Taverny, France
2015
Glaciers, galerie Sit Down, curated by Françoise Bornstein, Paris, France
2013
Les Neiges Eternelles, Archipel Art Contemporain, curated by Marie Alsberg & Gabriel Grandjacques, Saint-Gervais-Les Bains
2012
Photos-Romans, galerie artLIGRE, curated by Cyril Duret, Paris
GRANTS & AWARDS
2022
Residency : Jardins d'Arcadie, Saint Brieuc, dans le cadre du programme Transat des Ateliers Médicis soutenu par le Ministère de la Culture – Été culturel 2022
2021
Residency, Maison des Arts du Léman, Thonon (74), France, en partenariat avec le Géoparc mondial UNESCO du Chablais, juillet 2021
2020
Residency, Centre d'Art GwinZegal, Guingamp, oct 2019 – janv 2020
Finalist, Mia Fair, Ninth edition of the BNL Gruppo BNP Paribas Award, Milan
COMMANDE : Regards du Grand Paris #4, portée par les Ateliers Médicis et le CNAP, 2020-2021
Artist residency on Instagram, Réseau_Altitudes, 1 – 31 mai 2020
2019
Residency, Centre d'Art GwinZegal, Guingamp
Finalist, Talents contemporains, Fondation François Schneider
2017
2015
2013
2009
Égide awarded scholarship by the Ministry of Foreign Affairs and the Egyptian Ministry of Cultural Affairs, Photographer in the CNRS at Karnak, Egypt
Artist residency, Escuela de la Fotografia Creativa, Buenos Aires, Argentina
2008
15th LVMH Young Artists award : The need for repetition,a tribute to Alberto Giacometti, presented by Daniel Buren, France
Audience Award, WIP, Association of Students of the National School of Photography in Arles, France
2006
Generali Price presented by Sophie Ristelhueber,Armelle Canitrot and Patrick Lebescont, France

COLLECTIONS & ACQUISITIONS
Musée de l'Elysée, Lausanne, Suisse
Fonds National d'Arts Contemporain (FNAC), France
Frac Bretagne, France
Artothèque d'Annecy, France
Artothèque de Brest, France
Mairie de Saint Gervais, France
Maison des Arts du Léman, Thonon, France
Collections privées
EDUCATIONAL BACKGROUND
2005 – 2008 :
Ecole Nationale Supérieure de la Photographie d'Arles, Master of Arts with congratulations
2002 – 2004 :
Photograhy, Processing picture at Gobelins, l'école de l'image, Paris. CCIP diploma, France

PUBLICATIONS
2022
Glaciers, éditions Hartpon, avec les contributions de Michel Poivert, Luce Lebart, Luc Moreau et Vincent Chanson, Iris Hatzfeld, mars 2022. Conception graphique : Patrice Renard.
Approcher les glaciers, collection Capture, #4, éditions Hartpon, septembre 2022. Avec Amélie Lucas-Gary et Daniel Girardin. Conception graphique : Patrice Renard.
2020
Roches, éditions GwinZegal, Guingamp, avec Gilles A. Tiberghien, Marc Fournier et Patrick De Wever, décembre 2020. Conception graphique : Marine Le Thellec.
2017
Glaciers, volume 2, éditions h'artpon, avec Daniel Girardin et Amélie Lucas-Gary
Exhibition catalogue Sans Limite, Photographies de Montagne,Musée de l'Elysée, Lausanne
2015
Glaciers, éditions h'artpon, avec Luce Lebart et Vincent Chanson
2012
2008
Rendez-vous, éditions En Marge, portfolio
2006
Catalogue, Festival Diaporama à Nantes, vidéo
SELECTED PRESS
2021
Roches, Negpos, Patric Clanet, juin 2021
Roches Animées, Maisons Côté Ouest, Agnès Benoit, juin 2021
Amour Courtois, Section 26, Xavier Mazure, mai 2021
Aurore Bagarry, Roches, Artpress, Etienne Hatt, mars 2021
Roches, exposition, lacritique.org, Pauline Lisowski, avril 2021
– Les images d'Aurore Bagarry #1 et #2, Art-icle, mai 2021
– Photothèque, Roches, Fisheye #46, Eric Karsenty, mars 2021
– Paris Diary by Laure Aurore Bagarry an explorer with an eye, Laure de Gramont, mars 2021
Roches, Télérama Sortir, mars 2021
Poésie sous roches, Les Echos Week-End, 6 mars 2021
Roches, entretien avec Anne-Frédérique Fer, France Fine Art, jan 2021
Les formes de l'eau, Regards du Grand Paris #4, Fisheye #45, tiré-à-part, jan 2021
2020
Roches, entretien avec Fabien Ribery, L'intervalle, dec 2020
Glaciers fantômes. Les glaciers valaisans dans trois ensembles de photographies artistiques, Claude Reichler, Les Cahiers de Vallesia, N° 33, Collectif, Le Rhône. Territoire, ressource et culture, Sion, Suisse, nov 2020
Jean-Luc Le Ténia, Libération et Next Libération, par Adrien Franque, jui 2020
2019
2018
Beaux-Arts magazine
L'Alpe
Maison Côté Est
2017
2016
2015
L'Alpe n°71, décembre 2015
Géants, le spectacle de la montagne, 28 septembre
Libération, cahier d'été : Blanc, 20 août 2015
Le Figaro, Les 24 plus beaux glaciers du Mont Blanc, 30 juin 2015
France Fine art, interview, 24 juin 2015
Radio Canada, Chronique du livre Glaciers par Arthur Dreyfus, 10 juin 2015
Le Parisien, 25 mai 2015
Télérama, sortir 27, mai 2015
2014
CHEAP #07, juillet 2014, Les Sphinx de Louqsor
2013
Moniteur des pharmacies, nov. 13, portfolio
Greenlinkers: Interview, nov. 2013.
Visual Independence, a photo*graphic experience |No. 6 | Spring 13, Cairo, portfolio
Le Monde des Livres, Noël Herpe
L'Arbalète Gallimard, Mes scènes Primitives, Noël Herpe
2012
Visual Independence, a photo*graphic experience |No. 5 | Winter 12-13, Argentine, Portfolio
Ouvert la Nuit, France Inter, Agenda culturel d'Alexandre Héraud, interview
Wad magazine, Breaking News
Ouest-France, Image Publique
Photographie.com, Journal Japonais
2008
Libération, 24 juillet, cahier d'été, portfolio
Photos Nouvelles, juillet/août, portfolio.2006
Inframince n°2, workshop avec Dominique Auerbecher.