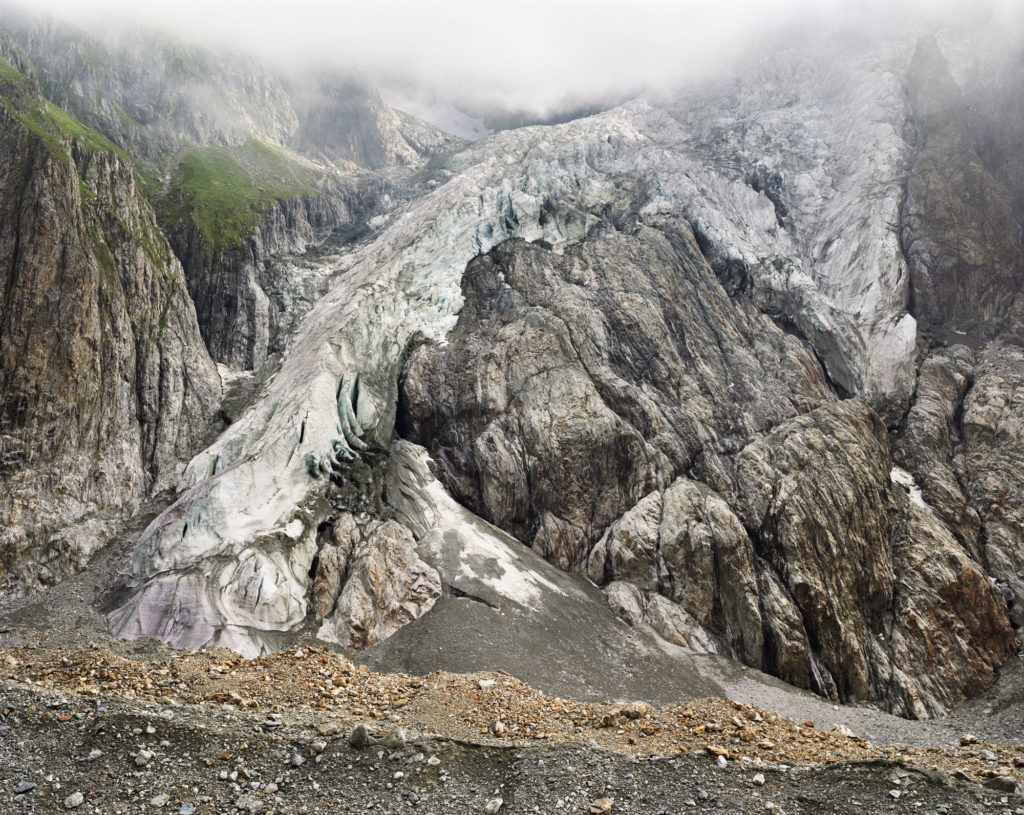 Glaciers, 2012-2018
Avant d'être admirée au XIXe siècle, puis domestiquée et consommée au XXe siècle, la montagne est source d'appréhension. Ainsi jusqu'au XVIIIe siècle, les "glacières" de la "Montagne Maudite", l'actuel Mont-Blanc, ne sont guère visitées.
C'est à un inventaire photographique de ces fameux glaciers que procède Aurore Bagarry et c'est par une carte de ces flots gelés que s'ouvre son voyage. Le recours à la chambre photographique accompagne son exploration contemporaine. L'infinie qualité de détails et la totale maitrise technique des rendus de lumière et de couleur renvoie aux approches documentaires les plus exigeantes. Le style en est adopté mais les choix de points de vue, de lumière et de cadrage troublent l'impression de "déjà vu".
Ces glaciers ne ressemblent ni à ceux, actuels, issus de la conquête sportive ni à ceux enregistrés par les glaciologues contemporains ni encore aux images " noir et blanc " des glaciers d'albumine, de collodion ou de gélatine qui ont pali avec le temps. La vision est revitalisée ici, via la couleur, dans la rencontre extrême et sensible entre une jeune femme photographe et des sites qui, s'ils ne sont plus considérés comme maudits, n'en restent pas moins fascinants.
Luce LEBART
Historienne de la photographie
The German ‐speaking Swiss writer, Ludwig Hohl (1904‐1980), in his work Ascension1, warns us: « Les bons alpinistes sont presque toujours des êtres laconiques. » (Good mountaineers are nearly always people of few words.) Everything in his story relates back to the necessarily minimalist relationship that man must maintain with mountains. The two heroes of the story, in setting off to conquer a glacier, heroically confront the harsh terrain, with tragic consequences. They perfectly exemplify this quasi‐ Nietszchean proverb: « Celui qui gravit les plus hautes montagnes, celui‐là se rit de toutes les tragédies qu'elles soient réelles ou jouées. » 2 (He who climbs the highest mountains laughs at all tragedies, whether real or imagined.)
Aurore Bagarry's work is completely at one with this line of thought, which makes representation of the mountain a kind of withdrawal, or what the Greek philosophers called epoché, the suspension of beliefs and assumptions. It can also be a suspension of the senses, a setting aside of human reason, which can never compare with the mighty grandeur of Nature. Having set out to catalogue all the glaciers of the Mont Blanc valley in France, Italy and Switzerland, photographing them between June and September, after the snow has melted, Aurore Bagarry records the glacier with clinical objectivism as a presence, but also as a trace, something left behind. This naturally brings to mind some of the great romantic painters, but above all the work of photographers such as Léon Gimpel, Walker Evans or Bernd and Hilla Becher for their documentary objectivity. It is difficult for today's artists to work within the imaginary world of romanticism and its search for the sublime: the metaphysics of the highest peaks has given way to scientific rationality, with its batteries of instruments.
Aurore Bagarry's photographs are precisely within this movement to remove the sacred aura surrounding mountains. The concept of trace, the thing which survives the inexorable snow melt, puts a question mark over her decision to use photography as her medium. Is it possible for the photographer to capture the many variations in the shape of the glaciers? How does this compare with the definitive record of individual features encoded in the impressive network of data produced by scientific apparatus? It is this tension which fuels this project from Aurore Bagarry, here questioning what a certain melancholy meditation on the modern world can really mean.
Vincent Chanson, Ph D in Philosophy.
Translation: Sue Baines BA
1 Ludwig Hohl, Ascension, trad.fr. Luc de Goustine, Paris, Attila, 2007.
2 Friedrich Nietzsche, Ainsi Parlait Zarathoustra, trad.fr. G.A. Goldschmidt, Paris, Le Livre de Poche, 1972, p.56.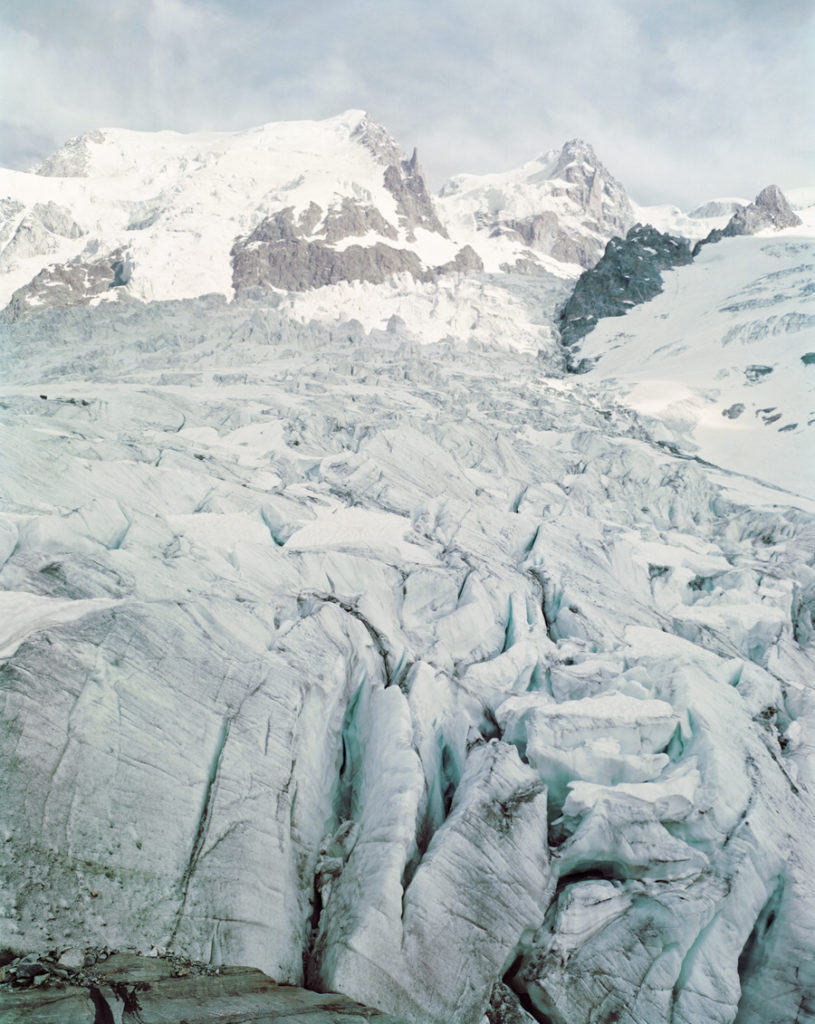 PARTNERS AND SUPPORTERS : Centre National des Arts Plastiques (CNAP), Contemporary documentary photography in 2013, and City of Saint-Gervais-les-Bains (Heritage and Culture).
SHOWS : Sit Down Gallery, Paris ; Musée de l'Elysée, Lausanne ; Hôtel Fontfreyde, Centre Photographique, Clermont-Ferrand ; La Filature, Mulhouse, Artothèque, Annecy…
PRESS : Libération, Télérama, Nouvelle Quinzainne Littéraire, France Culture, Le Monde, Beaux-Arts Magazine, Le Figaro, l'Intervalle, l'Alpe, Radio Canada, RTS, Monocle…