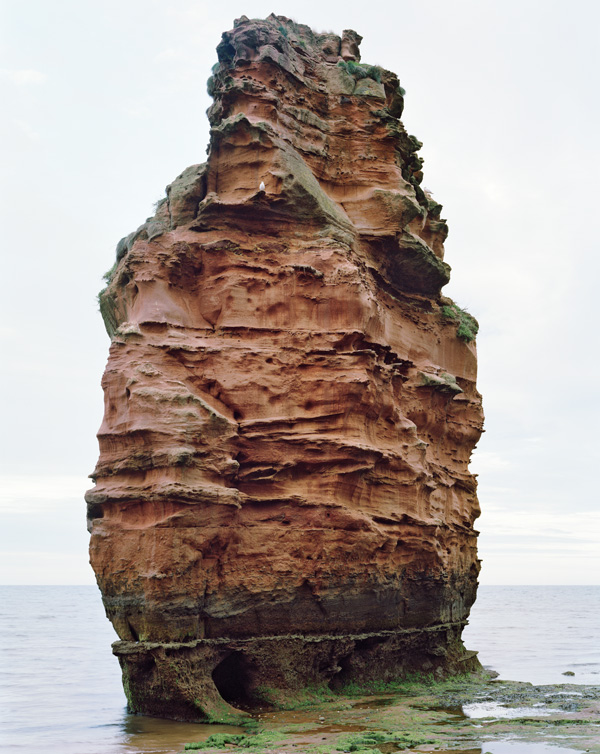 Roches, 2016-2020
avec le soutien de la Drac Bretagne (Aide Individuelle à la Création) et le Centre d'Art Gwinzegal, Guingamp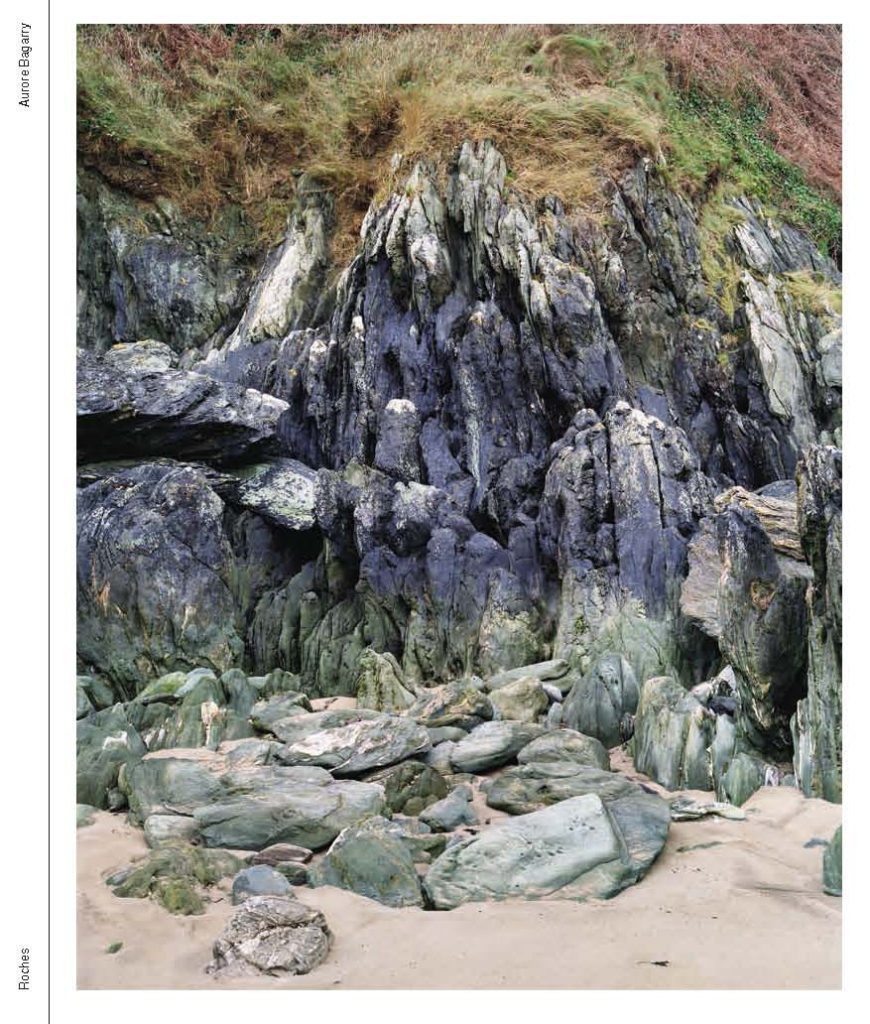 Ces Blocs de temps figé (extraits) – Gilles A. Tiberghien
En allant, du côté français, de Calais à Brest et en passant par Varengeville, la pointe du Hoc, le cap Levi dans le Cotentin et nombre de bourgades du Finistère et des Côtes-d'Armor, Aurore Bagarry a photographié un paysage « à bout portant », pour employer une expression que peut justifier la notion de tir photographique, mais qui dit bien la sensation de brutale mise en présence ressentie lorsque l'on regarde ces images. En Angleterre, sur l'autre rive de la Manche, de la même façon, l'artiste a symétriquement parcouru la côte vers l'ouest en partant d'Eastbourne jusqu'au cap Lizard en Cornouailles, pour, parvenue à l'extrémité de la péninsule, revenir vers Maer Cliff près de Bude, au nord-ouest du Dartmoor National Park, face au pays de Galles.
Ce que l'on voit ici est d'une nature indéterminée et tient aussi bien du relevé topographique que de la photographie de paysage. Très peu de ciel, voire pas du tout dans ces images qu'il est quasi impossible de situer si l'on n'a pas repéré sur une carte l'endroit où elles ont été prises. Que l'on soit en France ou de l'autre côté de la Manche, rien ne permet de le comprendre vraiment.
La côte semble une gigantesque palette sur laquelle la mer a essayé ses couleurs : les mauves se marient aux jaunes et aux verts de chlorophylle et de boue mêlées, les ocres lépreux bourgeonnent de buissons nains, les gris entaillés de dépressions bleuâtres semblent s'incliner sous la poussée des vents, les grès sombres veinés de rose se découpent sur le ciel gris, les falaises dressent le profil crénelé de leurs murailles blanches décapées par le sel, leurs tourelles coiffées de gazon ras, parfois maculées de lichen sombre, ou striées de bandes verticales dessinées par les eaux de ruissellement.
These Blocks of Frozen Time – Gilles A. Tiberghien
As Aurore Bagarry made her way, on the French side of the Channel, from Calais to Brest, by way of Varangéville, the Le Hoc promontory, Cap Levi in the Cotentin, and several small towns in Finisterre and the Côtes d'Armor, she photographed a landscape at "point blank range", to use a phrase that may explain the notion of the photographic shot, but which also expresses the sensation of brutal presence felt when you look at these pictures. In England, on the northern shores of the Channel, the artist likewise journeyed westward along the coast, starting from Southampton and ending up at the Lizard, at the tip of Cornwall, and then, having reached the end of the peninsula, made her way back by way of Maer Cliff near Bude, to the northwest of Dartmoor National Park, facing Wales.
What we see here is indeterminate, and has as much to do with topographical survey as with landscape photography. Very little sky, or even no sky at all in these images which it is almost impossible to situate, if you have not located on a map the place where the photos were taken. Whether you are in France or on the other side of the Channel, nothing helps you to really understand it.
The coast thus seems like a gigantic palette on which the sea has tested its colours: mauves marry the yellows and greens of chlorophyll and mud mixed together, sickly ochres bud from dwarf bushes, greys notched by bluish hollows seem to bow beneath the force of winds, dark sandstones streaked with pink stand out against the grey sky, cliffs display the crenellated shapes of their white walls stripped by salt, their turrets surmounted by low grass, sometimes spotted with dark lichen, or streaked with vertical stripes made by trickling water.
Translation : Simon Pleasance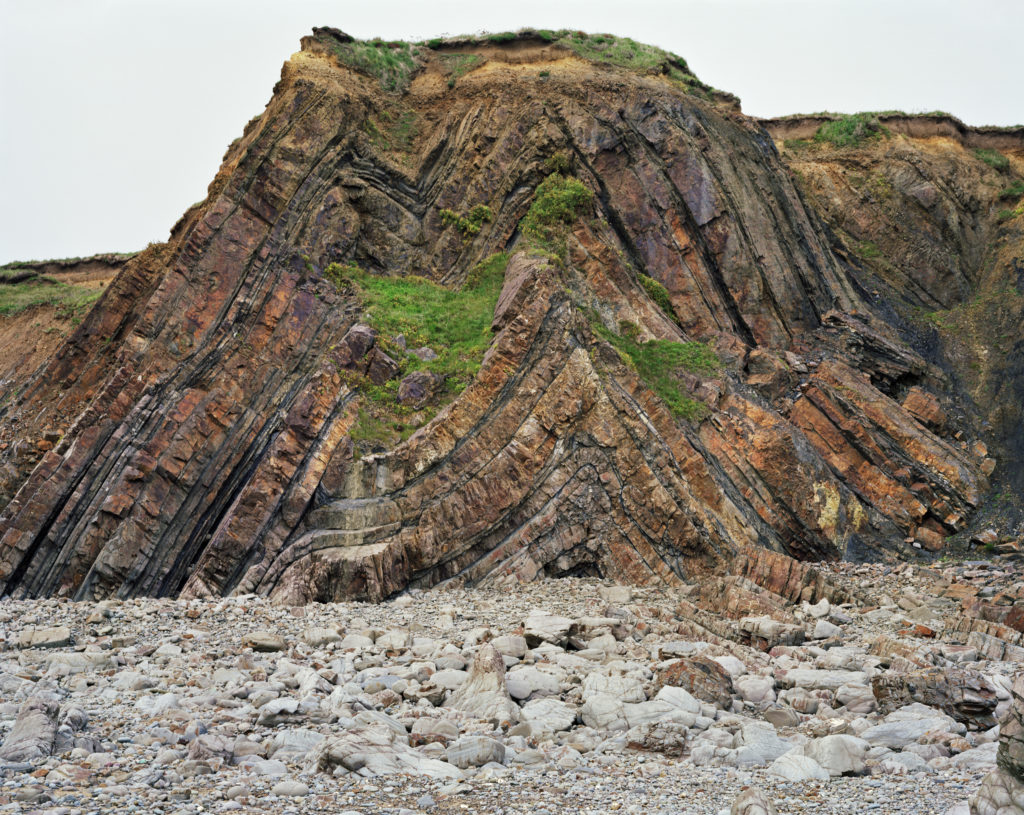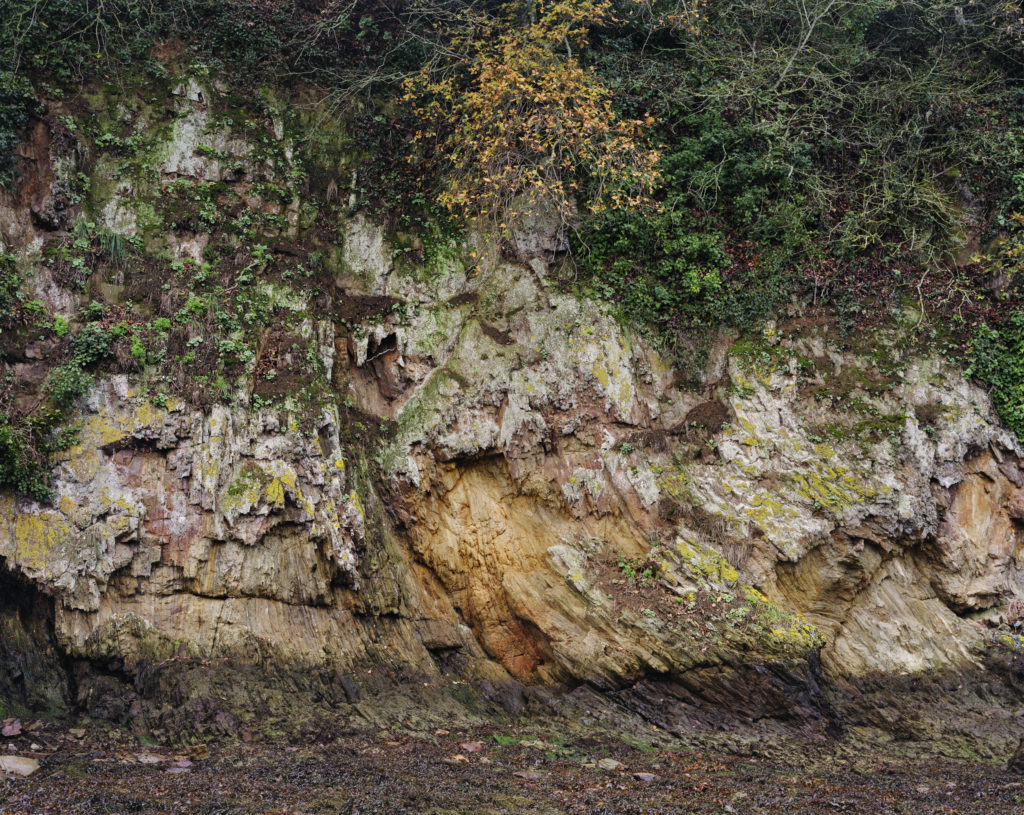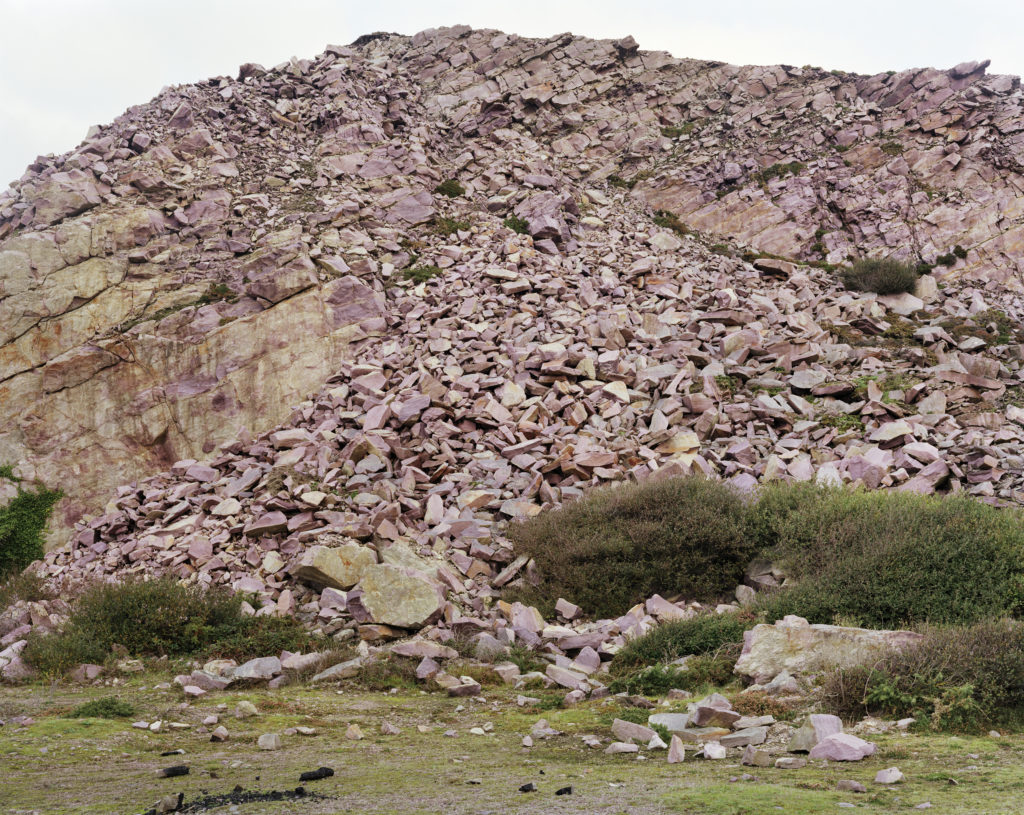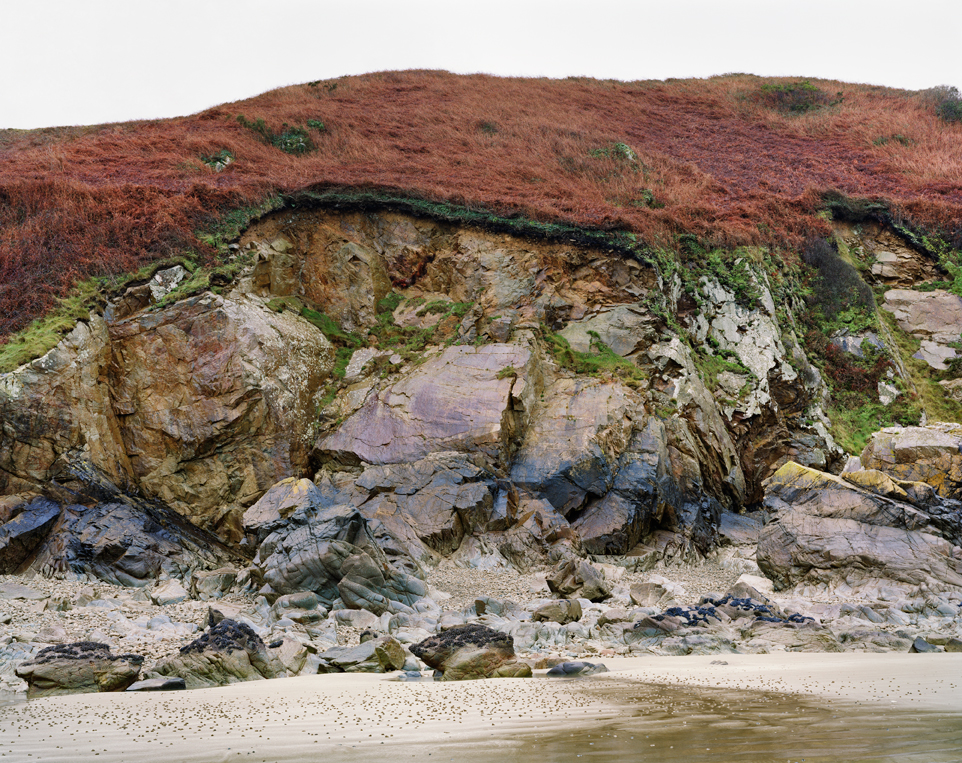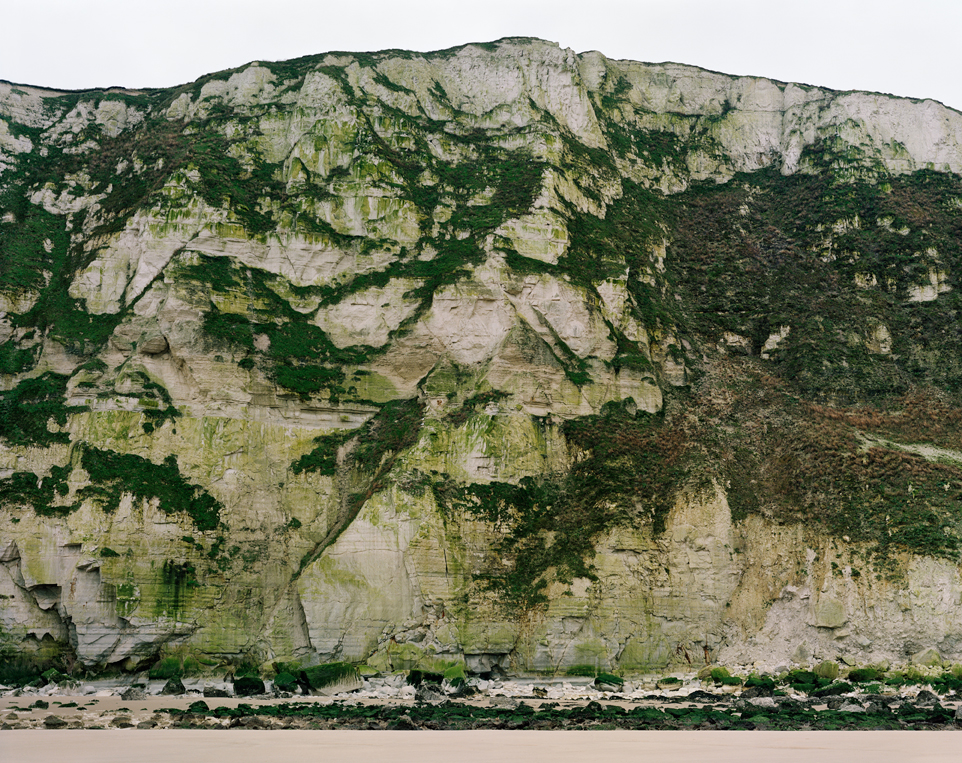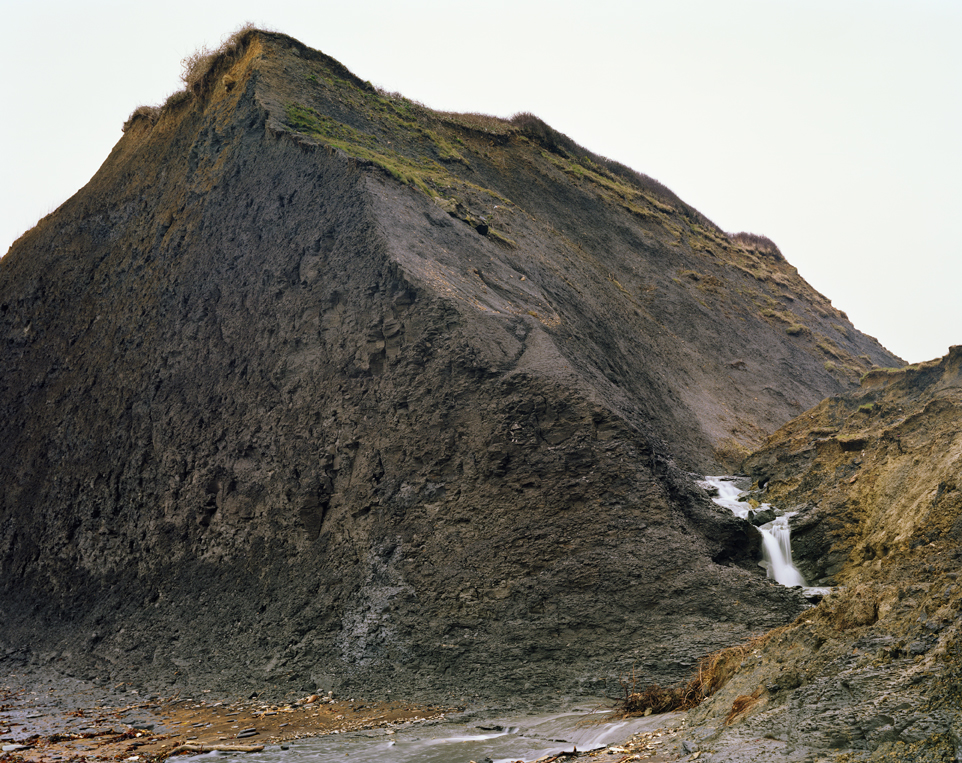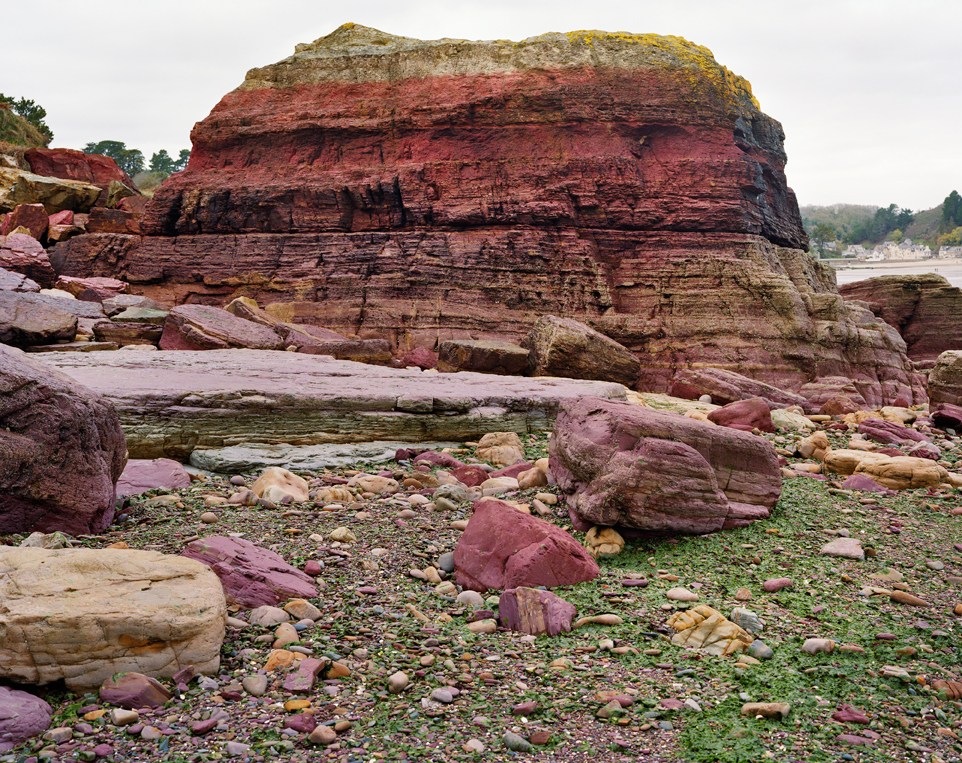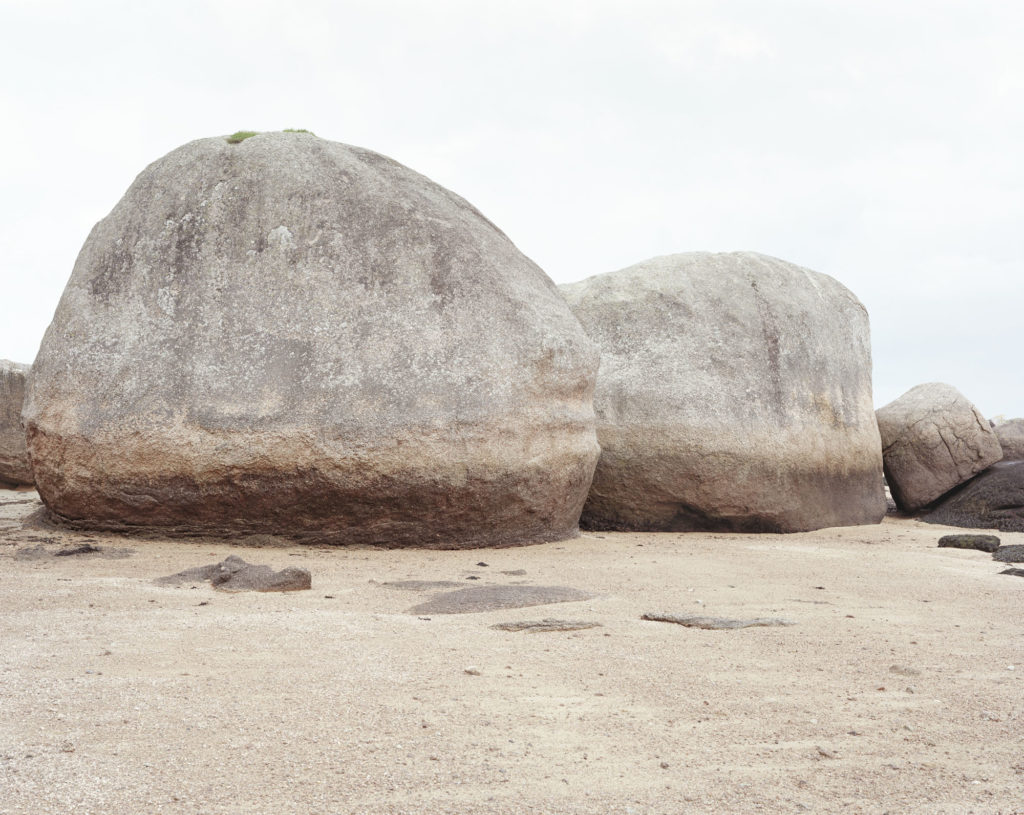 PARTNERS AND SUPPORTERS : In 2017, Rocks received support from DRAC Bretagne, Aide Individuelle à la Création, and also from Centre d'Art GwinZegal in 2019.
PRESS : Libération, ArtPress, Art Newspaper, l'Intervalle, France Fine Art, lacritique.org, Les Echos week end , Fotoloft…
SHOWS : L'échapée, Centre d'Art GwinZegal, Guingamp ; Jeune Création #69, Fondation Fiminco, Romainville ; Depuis la Terre Ferme, Maison de la Fontaine, Brest ; Galerie Sit Down, Paris ; Paris Photo 2021, parcours JP Morgan;  Frac Bretagne en résidence, Espace François-Mitterand, Guingamp ; Les Champs Libres, Rennes